Brookline and Coolidge Corner History
BROOKINE MA HISTORY

Brookline's beginnings were rural; its land was originally parceled out to citizens of Boston as allotment farmlands in the 1630′s. As allotment holders found it convenient to live close to their crops and livestock, a settlement grew up around the "Muddy River Hamlet". By the end of the seventeenth century, its inhabitants had built a school house, laid out three major roads, obtained exemption from paying taxes to Boston, and were petitioning the Massachusetts General Court for independence.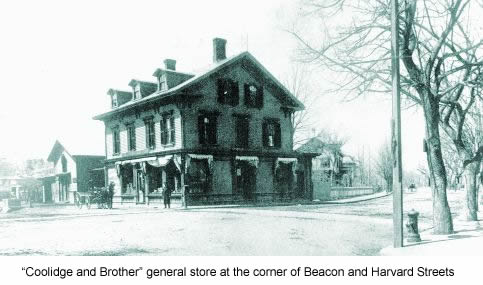 After three attempts, a petition to be a separate town, signed by 32 freeholders, was granted on November 13, 1705. The Muddy River hamlet was formally incorporated as the Town of Brookline. Samuel Sewall, son of Judge Sewall of Salem Witch Trials fame, lent the community his services as the first Town Clerk and, it is thought, the name of his family's "Brooklin" lands, which lay between the Charles and Muddy Rivers. A Town Meeting and Selectmen governed the Town, then, and still do today.
The residents of Brookline in the early eighteenth century were almost all farmers, many cultivating lands inherited from their fathers or acquired through marriage. Some of their names, such as Heath, Winchester, Clark, Aspinwall, and Devotion, remain with us today as street and neighborhood identifications. Zabdiel Boylston of Brookline, a physician, and uncle of John Adams, earned initial notoriety and enduring fame by introducing inoculation against smallpox to the American colonies in 1721.
COOLIDGE CORNER HISTORY
The development of the Coolidge Corner neighborhood plays an important part in the history of Brookline's growth from a sleepy farm borough to a thriving suburb and independent-minded town.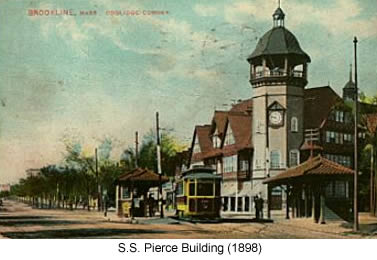 In 1857, among the summer estates and farmlands, David S. Coolidge and William J. Griggs established the "Coolidge and Brother" general store at the corner of Beacon and Harvard Streets, at that time a stop on the coach line to and from Boston.
In 1886, with the advent of the street car, local tycoon Henry M. Whitney hired Frederick Law Olmstead to widen Beacon Street into a boulevard. The following year, the first elevated street car ran up Beacon Street, and subsequently area property values skyrocketed. Land was subdivided for one and two-family homes, apartment buildings were constructed along the "model French boulevard," and new business structures, including the S.S. Pierce Building (1898), went up near "Coolidge's Corner".
*Coolidge Corner photo at top courtesy of Ddogas, Wikipedia.
"Clean, convenient, comfortable. It was an easy experience. What a treat to stay nestled in the heart of a great Brookline neighborhood. Walk to everything: food, shopping, transportation. We had a room with a private bath and we felt completely at home." – Portsmouth, New Hampshire
» Read more reviews.