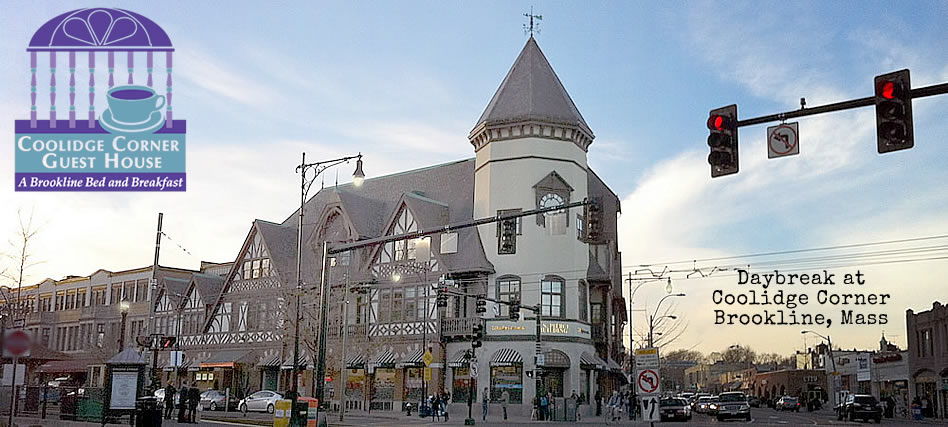 Hundreds of websites claim to have the inside track on fall weekends in Boston. But only a local can tell you about limited-time pop-up shops, the treats to splurge on, and where you can have a one-of-a-kind experience that you'll be talking about at home. Here's our version of a Boston weekend, available only to our favorite visitors — the ones that book with The Coolidge Corner Guest House!
Stroll the Emerald Necklace
Famed landscape architect Frederick Law Olmstead, who designed New York's Central Park and Montreal's Parc Mont-Royal, saved the best for his hometown. Boston's famed Emerald Necklace is a collection of linked parks that will take you through a fascinating swath of the city's neighborhoods. For an urbane stroll, start at the Public Garden, head down Commonwealth Mall, and end with some sights and a snack in Kenmore Square. To see the wilderness within the city, begin at the Back Bay Fens and walk to Jamaica Pond, where you'll be just blocks away from the shops, restaurants, and bars of Centre Street.
Mangia!
You can skip the Italian superstore owned by a celebrity chef, and instead take the T from Coolidge Corner to Haymarket. Cross the Greenway to Hanover Street and you'll find yourself in Boston's Italian neighborhood, the North End. Boston's famed red-brick Freedom Trail passes right through; along the way you'll find to Paul Revere's house and some of the best cappucini, elephant ears, and cannoli around. Mike's Pastry, Modern Pastry, and Caffé Vittoria vie for dominance. You should probably try all three to make a fair comparison.
(By the way, if you spot a long line at Pomodoro or the Daily Catch, don't despair — they both have outposts in Brookline that are just as good, and much easier to get into!)
Skip the Sox
We're pretty proud of our World Series champions this year, but even if you're not a fan of the #DamageDone crowd, Fenway Park is worth a visit in the off-season. This fall, the stadium will host a series of epic sporting events, including the Harvard-Yale football game, an Irish hurling tournament, and a series of local high-school matchups. Enjoy Major League Baseball's oldest ballpark in fall — you don't even have to root for the home team!
Water Views
Boston's Seaport is growing every day, and a visit here will ensure you're on the cutting edge of the city's shopping and dining trends (at least for a week or so!). Check out the latest from the modern art world at the Institute of Contemporary Art, [www.icaboston.org] and then fortify at Gather, the restaurant inside of "the world's first free-standing innovation center," District Hall. Visitors in November and December can get some early shopping done at the BBOB Pop-Up, a celebration of Boston's Black-owned businesses held at District Hall one Saturday each month.
Parting Shot
If you're flying out of Logan Airport, give yourself extra time to take a lovely last look at the city via Piers Park, a highlight of the East Boston waterfront. Then, head to Santarpio's, a famous East Boston pizzeria. It's not haute cuisine, but it's delicious, and strictly for locals. (Need proof? The drink options are beer, red, and white — and that literally means three choices, not a range of brews or varietals.) Act like a Bostonian and stuff yourself before you board your plane. The airport's five minutes away.